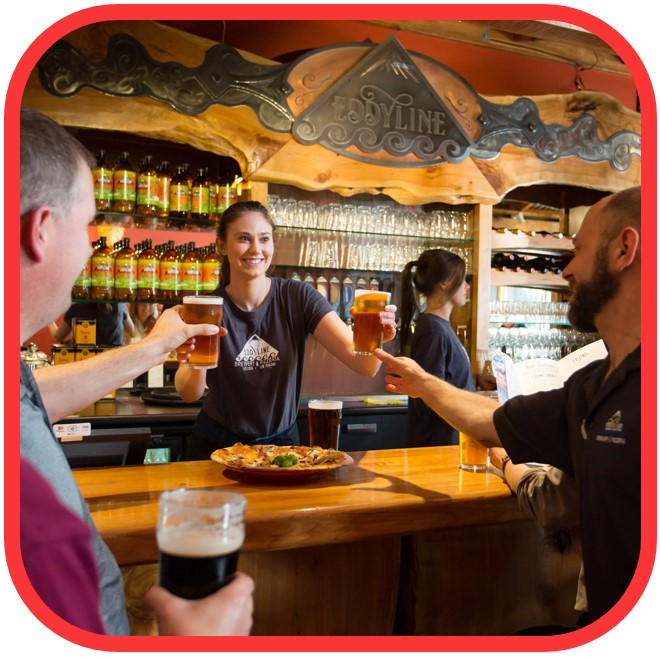 *😋Eddyline Super Fresh Favourites!
Have you ever wondered why beers from Eddyline always taste so damn delicious and win so many awards? It's because their beers are small batch brewed for optimal freshness. Residing in Nelson, they also have access to the best hops and purest water in NZ. That's why!
🎁Whether you are looking to reward yourself, find the ultimate Xmas gift, share some beers with ya mates or thank your colleagues or customers for a banging year, this is the box!🎁
With the end of the year fast approaching, we wanted to celebrate our Eddyline partnership with a banging box of beers containing all their latest (including the brand-new Apricot Splash Wheat Ale!) and greatest bangers of 2023. Every beer in this special release is fresh as a daisy, brewed to order for all you Eddyline lovers. 
Containing 12 different 440mls for only $69.95* this is a banging deal. Here's what you'll get;

😋NEW Apricot Splash Wheat Ale (5.0%): A hazy golden brew with a lingering white head. Its aroma is a vibrant blend of apricot, citrus, and grainy malt. On the palate, it offers a smooth and creamy wheat base with gentle sweetness and biscuit-like malt, while the burst of apricot flavour takes centre stage. The finish is clean and crisp, leaving a lingering essence of apricot.
😋Simcoenan The BarBEERian WCIPA (6.3%): A golden WCIPA brewed with Simcoe hops and 100% NZ malts. It exudes a captivating aroma of tropical fruits like mango and passionfruit, complemented by citrusy grapefruit notes. The flavours are a harmonious blend of caramel sweetness from the malts and vibrant tropical fruitiness.
😋Summer in the Citra Hazy IPA (6.1%): A bold Hazy IPA with a slight haze but massive hop aroma!  Its flavour and aroma are all about easy drinking while having a fun time! Citra hops dominate this NEIPA style with a mellow maltiness and smooth soft bitterness to bring it all together.
😋Happy Camper APA (5.0%): An American Pale Ale with an intense tropical juice aroma and refreshing dank bitterness balanced with just enough malt that allows it to finish crisp and refreshing.
😋Cloudbase Kolsch (4.5%): Cloud Base Kölsch is a golden German ale that has been lagered for incredible smoothness. A pleasing maltiness, lightly balanced by the NZ hops, and a refreshing aroma from a short dryhop of Motueka hops.
😋Amigo Amber Lager (5.2%): Based on one of our favourite Mexican beers, Negra Modelo and technically is considered a Munich Dunkel.  Made with German lager yeast, all New Zealand Gladfield malts and malted maize corn, and NZ hops it is an authentic representation.
😋BoardRider Hazy IPA (6.5%): Catch this wave of 100% NZ malt & hops! A massive blend of NZ hops with Nectaron® creates powerful citrus and tropical aromas. This beer has heaps of fruity hop aromas, flavour and character….. enjoy!
😋Roaring 40's Porter (5.5%): We love a good porter for its richness but don't like a harsh roast bitterness. We avoid this by building the malt profile with nearly a dozen malts to create a rich roastiness with minimal bite. Carbonated just right to give a smooth mouth feel.
😋Sippin on Sunshine Hazy Pale (5.5%): We triple dry hopped our Sippin' on Sunshine to bring out the juiciness while having a lighter body and pleasant crisp finish. Motueka, Nectaron and Sultana hops contribute to tropical notes while NZ Southern Cross creates a refreshing lemon flavour!
😋Octolupulus Hazy Pale (4.5%): Just like the Octopus, Octolupulus session hazy IPA camouflages the massive hop profile - with 8 NZ hop varieties utilised plus 100% NZ malts from Gladfields, this beer may appear to be big, but is super crushable.
😋CrankYanker WCIPA (6.3%): A bold West-Coast style IPA featuring El Dorado and Mosaic hops with a complex malt profile. Emphasis is on aroma over bitterness. Tropical and pine flavours with a hint of citrus-pineapple aroma! Eddyline's long-time best-selling classic!
😋Dank Matter WCIPA (6.5%): Pouring bright & light, Dank Matter belies its big ABV to make way for refreshing gooseberry and citrus notes leaving dank fresh hop like aromas and finishing with melon and a lingering bitterness.
Thanks for supporting local craft. We know you'll enjoy this awesome release!
If this box isn't for you, no wuzzas, check out all our other awesome one-off brewery releases HERE!
Big Hugs
🍻Team Beer Hug!
*Details:
Cost is $69.95 plus $6.95 shipping or +$9.95 rural.
This pack will be shipping daily while stocks last. Track and trace emails will be sent upon dispatch. Our couriers provide contactless delivery for your safety.
The beers in the box may alter slightly depending on availability. If we need to make a change to the box, we'll make sure any substitutes are equally awesome!
Eddyline sublime.....
Love the beers, love the Beer Hug service. I'm a regular purchaser cos it just makes sense to get a range of beers this way! Thanks team!
*🚴EDDYLINE ADVENTURE PACK!
*🚴EDDYLINE ADVENTURE PACK!
Delicious
I nice mix at the right price! Lived the porter. Hazies are everywhere these days so it was good to have variety.
*🚴EDDYLINE ADVENTURE PACK!
Let customers speak for us