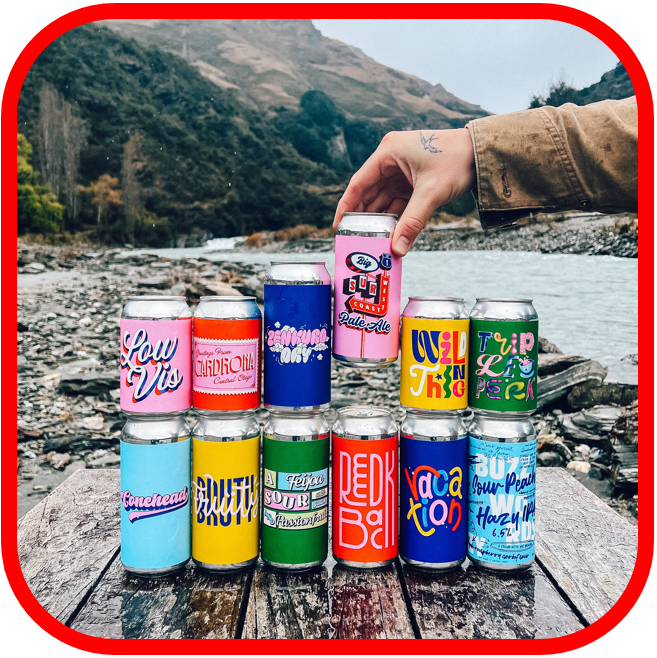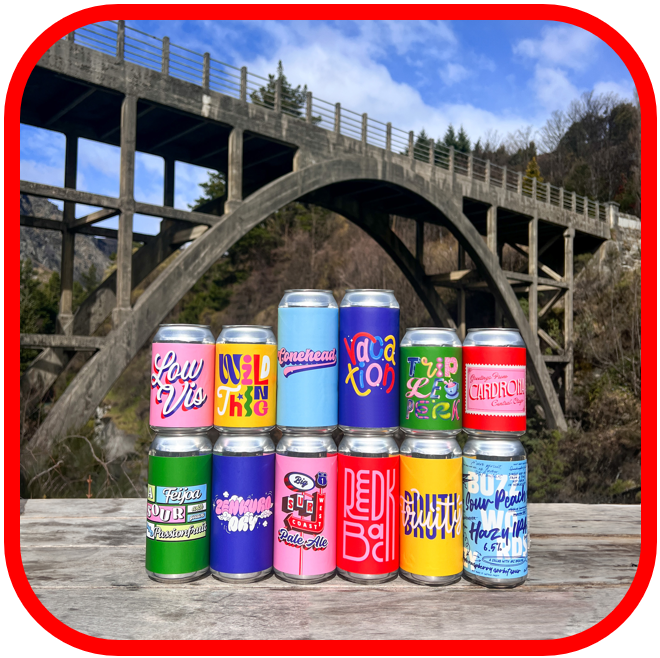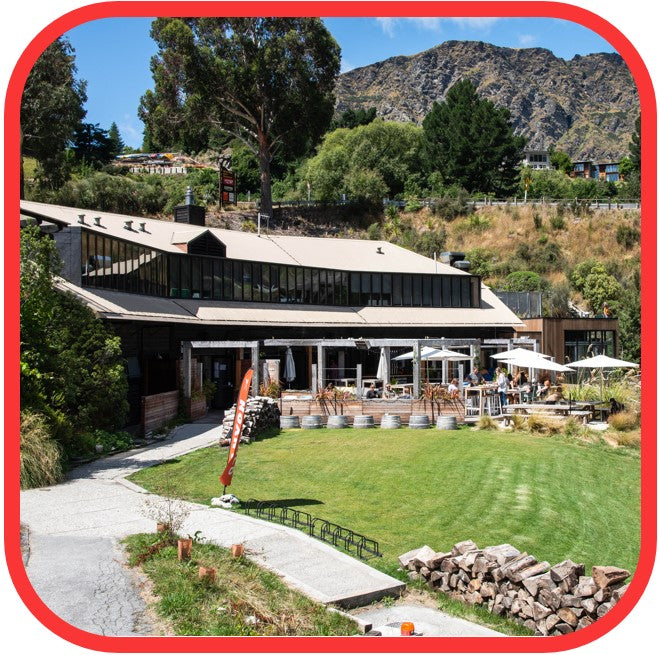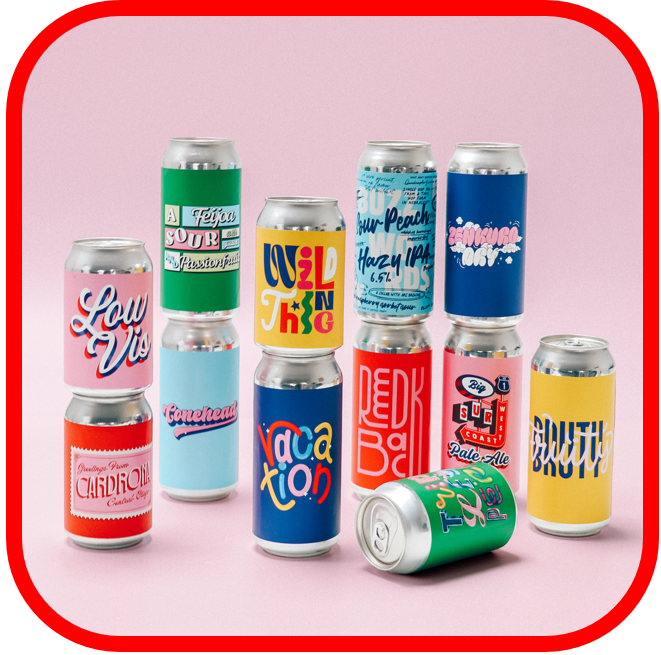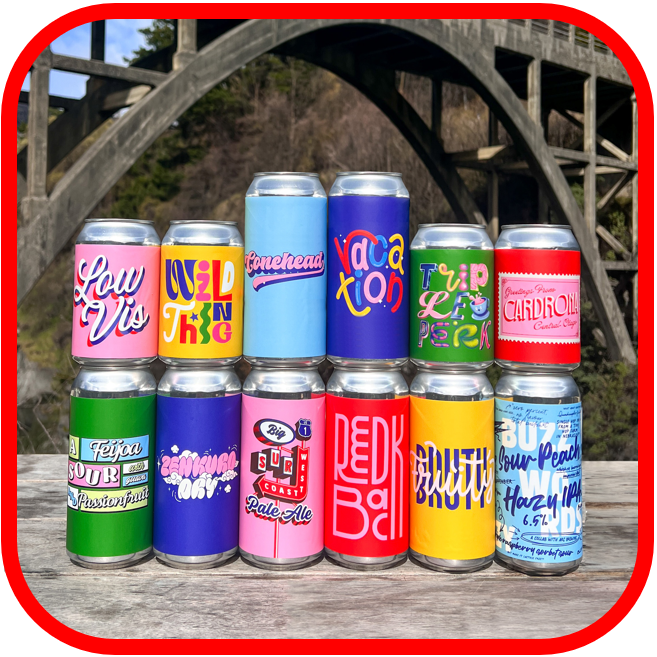 *🥶Canyon Brewing Super Cool One-Off!
The cool thing about Canyon Brewing is that they always look to break the mould, do things differently and push things to the limit. And that's certainly the case with this exclusive Beer Hug release.
What better place to brew perfectly chilled craft beer than a place in New Zealand that's synonymous with very cool – Queenstown. Cardona. The Valley even! The guys at Canyon don't do things by halves. Their handcrafted, micro-brewery beers live and breathe the essence of the southern spirit of discovery, creativity, and innovation.

💥When we briefed Canyon to come up with 12 different beers, representing the full brewing spectrum, make it generous, and fun we acknowledged it was a tough one. But not for Canyon, they've nailed it. BOOM!💥  
The super cool thing about this release is that every beer has been brewed and designed exclusively for Beer Hug. Inspired by the weird and wonderful world of typography, these limited release designs not only look wicked but taste wicked too…..as you are about to discover.
Containing 12 different beers, 12 bespoke designs, 8 x 440ml and 4 x 330ml, this release really does have it all. You'll get;
8 x BIG SERVE 440ml brews;
🥶 Buzzwords Peach Hazy IPA (6.5%): Craft brewers have a tendency to go OTT when it comes to ingredients. From quadruple fruited sours to marshmallow pastry porters, this is our ode to all the 'buzzwords' in brewing. This sour peach hazy IPA packs huge amounts of peach on the nose, supported with Peacharine and Nelson hops for a stone fruit explosion on the palate.
🥶 Redback Red IPA (5.8%): Get ready to embrace the adventure in this harmonious fusion of malt and hops, pouring a mesmerising ruby thanks to Gladfield's Redback Malt. This brew tastes of toasted caramel and tropical goodness, with a symphony of berry, pine and citrus on the nose and a classic hoppy bitterness to finish.
🥶 A Feijoa Sour (5.8%): A true New Zealand icon coming into season in the Autumnal months, this tough-skinned fruit is known for its unique aromatic scent and gritty texture. To amplify these characteristics we've added passionfruit, guava and vanilla, rounded off with lactose.
🥶 Big Sur West Coast Pale Ale (5.5%): Take a trip down highway 1 to Big Sur and embrace the California spirit in a can. Dive into an ocean of refreshing citrus, wander through resinous pine forests, and catch a subtle wave of bitterness that's as invigorating as a coastal breeze. A taste of the Golden State, where every sip feels like a California sunset.
🥶 Conehead Hazy Pale Ale (5.0%): Inspired by the thigh burning crud of Treble Cone, this hazy pale ale is carefully hopped with Azzaca, Cryo, Motueka and just a sprinkle of Nelson. Subtle tropical fruit and citrus with a light refreshing body. Maximum flavour and maximum drinkability. An every day 5% hazy!
🥶 Vacation Hazy Pale Ale (5.2%): Vacations are best served cold, whether you're in scorching Central Otago, sandy Whangamatā, sunny Nelson or mountainous Mackenzie Country. A refreshingly approachable yellow hues hazy packed with Strata, Moutere and Nectaron, all rammed into a dainty 5.2% body.
🥶 Zenkuro Dry Yuzu Rice Lager (4.7%): After sharing a few neighbourly beers and sakes together, it was inevitable for Zenkuro Sake and Canyon to collaborate on a Japanese inspired beer. Utilising the umami laden kasu (fermented pressed sake lees), yuzu rind and Japanese bred Sorachi Ace hops, we created an ultra-dry lager with a unique bouquet of creamy citrus and herbaceous dill. Kanpai!
🥶 Fruity Bruty Fruited Brut IPA (6.3%): Loaded with real passionfruit and guava and Peacharine and Idaho 7 hops, this beer is bone-dry, super tangy and just the right amount of spirtz. Crack the tab, kick back, and let Fruity Bruty take you on a wild ride through a world of flavour that's anything but ordinary!
Plus 4 x 330ml RIPPERS;
❄️Cardrona Hazy IPA (6.0%): Our beloved flagship hazy IPA brewed for the rad lot at Cardrona Ski Field. A combination of Rakau, Nectaron, Wai-Iti and Idaho 7 playfully bounce on a plump malt body. Overripe nectarine and apricot, with just a sprinkle of bitterness to bring you back for more.
❄️Low Vis Low Carb Pale Ale (4.5%): Don't let the humble 4.7g of carbs per can deceive you, this beer packs huge amounts of flavour in a tiny frame. At zero sugar, this beer is ultimately crushable, dry and fruity.
❄️Triple Perk Coffee Milk Stout (5.8%): We've added our signature Wolf Coffee roast at three points in the brewing process. A hot steep in the whirlpool, 'dry beaning' for rich coffee aroma and a concentrated brew for a depth of flavour. Smooth velvety mouthfeel with layers of rich espresso, chocolate and a refreshing coffee bitterness.
❄️Wild Thing Cold IPA (5.5%): It's time to get cold, hoppy and wild! A deadly crisp body helps showcase Mosaic, Moutere and Sabro. A clean lager ferment lifts layers of peach, coconut and candied stone fruit, all rounded out with some old school bitterness.
Thanks for supporting local craft. We know you'll enjoy this super cool release!
If this box isn't for you, no wuzzas, check out all our other awesome one-off brewery releases HERE!

Big Hugs
🍻Adam & Dan

*Details:

Cost is $59.95 plus $6.95 shipping or +$9.95 rural.
Beers will be shipping daily while stocks last. Track and trace emails will be sent upon dispatch. Our couriers provide contactless delivery for your safety.
The beers in the box may alter slightly depending on availability. If we need to make a change to the box, we'll make sure any substitutes are equally awesome!
Canyon Mix
A fantastic set, hazy sours my personal favourites! Loved it.
Canyon Brewing
Excellent beer and great service from Beer Hug
*Canyon Brewing Super Cool One-Off!
Great Serive, Great Beers
Thanks all, everything great!
Canyon
These guys a great brewers - I'm never dissapointed and appreciate the chance to buy their beer. Thanks BeerHug
Let customers speak for us