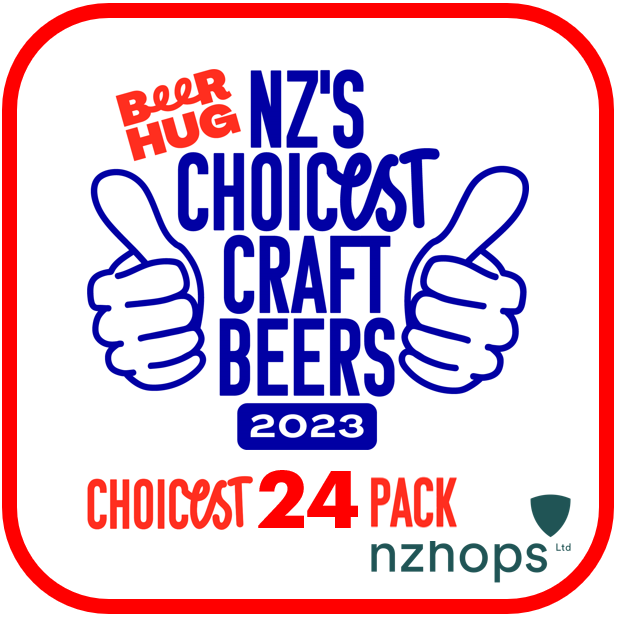 *👍NZ's Choicest 24 Craft Beers!
We couldn't be more stoked with the response we've had for NZ's Choicest Craft Beers 2023. The feedback we've received from the industry, our brewery partners and the Beer Hugger community has been off the scale.
NZ's Choicest Craft Beers is more than just a contest; it's a celebration of the creativity and passion that goes into crafting every brew. And we reckon it's never been more important to get behind our brewers and give them a double thumbs up.

Massive cheers to NZ Hops for their support and all those who have voted. We've received over 5,000 votes for over 500 different beers and the results are in. Drum roll please…..
It's official, NZ's Choicest Craft Beer in 2023 as voted by the Beer Hugger community is 👍Behemoth's Brain Smiles Hazy Pale Ale. Congratulations to Andrew and the team for crafting a beer that genuinely makes Kiwi's smile. Bloody legends!
In the runner-up position is 👍Eddyline's Crank Yanker West Coast IPA, another super choice craft beer that is loved by Kiwi's up and down the country. Next on the podium, with NZ's 3rd Choicest Craft Beer in 2023 is 👍Deep Creek's Misty Miyagi Hazy IPA!
Covering all your favourite breweries and favourite beers across the full brewing spectrum, these beers all deserve a double thumbs up! Every single beer in this special release is Choice As!
If you want to jump on board this celebration of NZ Craft and lock in a box, now's your chance. This limited release contains the 24 Choicest Craft Beers in NZ right now. 
In your Choicest 24 Craft Beers Box you'll get the following 5 x 440ml and 19 x 330ml brew (and detailed tasting notes); 
🥇#1 Behemoth Brain Smiles Hazy Pale Ale 330ml (5.4%): It is commonly said that drinking beer is like pouring smiles on your brain. And we would have to agree that a great beer does make our brain happy! So, we thought we would take our love for Hazy IPAs and bring that down to a slightly more session-able Hazy Pale Ale; still loads of hops and loads of juiciness, but a bit more moderate on the alcohol. Turn that frown upside down and pour some smiles on your brain.
🥈#2 Eddyline Crank Yanker West Coast IPA 440ml (6.3%): Bold West-Coast style IPA featuring El Dorado and Mosaic hops with a complex malt profile.  Emphasis is on aroma over bitterness. Tropical and pine flavours with a hint of citrus-pineapple aroma!  Our long-time best-selling classic!
🥉#3 Deep Creek Misty Miyagi Hazy IPA 440ml

 

(6.5%): The Flagship of our Haiku hazy range of beers, Misty Miyagi is our summer Haiku with tropical fruit flavours of passionfruit, mango and citrus, making an incredibly juicy IPA with a lower bitterness.
👍#4 Good George Fog City Hazy IPA 330ml

 

(5.8%): Fog City Hazy IPA is our tribute to the pea soup that regularly turns up in the winter months. Pale gold with tropical stone fruits, full bodied, juicy, smooth and creamy.
👍#5 Mount Brewing Mountie Pilsner 330ml

 

(5.2%): A rich and crispy, "cracker" like Pilsner. Proudly brewed with NZ hops: Motueka, Nelson Sauvin, Riwaka. Delivering zesty, lychee, citrusy-like flavour and aroma. Beer geek Pilsner.
👍#6 Garage Project Pernicious Weed Double IPA 330ml

 

(8.0%): Pernicious Weed is a celebration of the NZ-developed hop varieties Nelson Sauvin and Rakau. Huge grapefruit flavour in a worryingly-drinkable strong IPA.
👍#7 Urbanaut Toasted Marshmallow Hazy IPA 440ml (5.8%): Bursting with heady aromas of citrus peel, peach, mango, lime and orange blossom with gooey, melted notes of caramel and vanilla with a dusting of biscuit crumbs to pull you ever closer towards s'mores territory…Drink at dusk!
👍#8 Epic Hop Zombie Double IPA 330ml

 

(8.5%): Hops have taken over the world. Permeated the senses of the minions. Hop Zombies now roam the streets. Lupulin ichor oozing from ravaged legions. Gorging, gouging, masticating. Salivating over insane hop flavours and aromas. The time is nigh. No more festering away in hopless oblicion. Join the Hop Zombie Revolution.
👍#9 Parrotdog Birdseye Hazy IPA 330ml

 

(5.8%): Our feathered friends see the world differently. Through birds' eyes, things might look almost psychedelic to us, with heightened colours and fresh hues forming a surprising new spectrum. This hazy, citrus and stone fruit accented IPA with a mellow, soft and silky texture gives a similarly refreshing change of perspective.
👍#10 Mount Brewing Mermaids Mirth APA 330ml

 

(6.0%): Our Mermaid's Mirth is a bit of a local legend here in Mt Maunganui. Generously packed with American hops where Citra, Simcoe, and Chinook deliver a citrusy flavour and aroma, supported by a clean and crispy body.
👍#11 McLeod's Paradise Pale Ale 330ml

 

(5.5%): Our other flagship beer, an award-winning international-style Pale Ale, hoppy with a smooth malty sweetness and balanced bitterness. We use a blend of New Zealand and Australian hops to create a tropical fruit bowl of flavour and aromas. Expect a taste of Paradise in every can. Slainte mhath.
👍#12 Liberty Yakima Monster APA 330ml

 

(6.0%): It sounds Japanese but it's as American as having a BMI of 32. The Yakima Valley in Washington state, situated in the top left corner of the lower 48, is home to some of our favourite hop varieties, the tiny green flavour bombs that powered the whole craft beer renaissance from the get go. Liberty is what it smells like.
👍#13 Cassels Milk Stout 330ml

 

(5.2%): Obsidian-black with a velvety, tan head, our Milk Stout is traditionally brewed with non-fermentable lactose sugar for a luscious, full-bodied mouthfeel. Aromas of bittersweet chocolate, dried fruits, and bold coffee-and-cream flavours all descend on the senses, while soft roasted-malt bitterness keeps the sweetness in check.
👍#14 Behemoth Something Hazy IPA 330ml

 

(5.9%): Well you wanted a Hazy IPA, that is what you have here in your hot little hand. We have combined some of our all time favourite hops: Citra, Mosaic, El Dorado and Galaxy to bring you a medley of soft juicy flavours and aromas. We put the good things in so you can wear the something hazy grin.
👍#15 Eddyline Summer in the Citra Hazy IPA 440ml (6.1%): Bold Hazy IPA with a slight haze but massive hop aroma!  We created this IPA while listening to the classic song, Summer in the City, and its flavour and aroma are all about easy drinking while having a fun time!  Citra hops dominate this NEIPA style with a mellow maltiness and smooth soft bitterness to bring it all together. 
👍#16 Parrotdog Bitter*itch IPA 330ml

 

(5.8%): Our troublesome original release, named for the problematic first brew day which hugely emphasised its hop bitterness. It's matured and evolved nicely over the years, with us. Big tropical hop flavour from local varieties with strong bitterness from an English hop to honour its origins, all balanced by plenty of malt.
👍#17 Duncans Raspberry Ripple Icecream Sour 440ml (5.0%): The original ice cream sour. This is a dessert style sour, brewed with vanilla and lactose sugar to give a slight sweetness to the delicious tartness of raspberries.
👍#18 Mount Brewing Golden Hour Hazy XPA 330ml

 

(4.7%): This dry, tropical and juicy Xtra Pale Ale represents the unique and pure bonds between Hops, Malt and Yeast. In this beer we pay tribute to Idaho-7, Sabro and Nectaron hops where a massive boil-free, double dry hop addition delivers exceptional drinkability with a satisfying and hoppy finish.
👍#19 Epic Armageddon IPA 330ml

 

(6.66%): In the beginning, there was nothing. Then an impish brewer piled a ludicrous amount of hops into a batch of beer. This zymurgical big bang is Epic Armageddon, an apocalyptic assault on your preconceptions and taste buds. It may be too huge for this fragile planet so enjoy this beer like it was the last one on Earth.
👍#20 Urbanaut Copacabana Brut IPA 330ml

 

(7.1%): Bone-dry and spritzy with intense aromas of fresh fruit salad - this beer will make you want to dust-off the white tuxedo, bust out the hair spray and hit the dance floor!
👍#21 Mount Brewing Crazy Hazy Daze New England IPA 330ml

 

(6.4%): Jam packed with Citra, Amarillo and Nelson Sauvin, with only Whirlpool and Double Dry Hop additions, this Crazy Hazy has a rich body balanced with tropical Fruit Flavours of Pineapple, Mango and Passionfruit with a hint of Pine and a mild bitterness.
👍#22 Liberty Knife Party IPA 330ml

 

(7.1%): Nose is big on herbaceous pine, stonefruit and caramel. Big, spicy hop resin dominates, but is nicely underpinned by stewed fruit, zingy burnt marmalade and caramel malt. Big hop bitterness on the back end.
👍#23 Behemoth Lid Ripper Hazy IPA 330ml

 

(6.9%): Our original hazy, unfiltered IPA. Using a stupid amount of American hops and English ale yeast. This beer is extremely juicy and aromatic.
👍#24 Double Vision Mouth Party Hazy Pale Ale 330ml

 

(5.3%): Does what it says on the tin, mate! Everything you like from a hazy: full flavour, juicy, and all of those delicious tropical notes from dry hopping, without too much bitter.
Thanks for supporting local craft. We know you'll enjoy this awesome release!
If this box isn't for you, no wuzzas, check out all our other awesome one-off brewery releases HERE!
Choice Huh!

🍻Adam & Dan 
*Details:
Cost is $119.95 plus $6.95 shipping or +$9.95 rural.
Beers will be shipping daily from w/c 20th November while stocks last. Track and trace emails will be sent upon dispatch. Our couriers provide contactless delivery for your safety.
The beers in the box may alter slightly depending on availability. If we need to make a change to the box, we'll make sure any substitutes are equally awesome!
NZ's Choicest 24 Craft Beers
Mint
We brought this for a work mate who was transferred to another department. Super easy and a great selection of craftys with no thought needed. Great product, awesome communication and quick delivery.. definitely Recommend to everyone.
Top 24-AMAZING!
What a journey, working our way through NZ's voted top 24 beers. They are a diverse bunch, but all so good and thoroughly worthy of their spots. Loved having the tasting notes too.
Great beer, great service!
bought 2x boxes of the 24 craft beers and loved drinking them. Your service was also very very good. I was worried the courier would muck it up since we are in a semi-rural area but it was delivered safely per your assurance provided to me personally. Thanks, team!
Let customers speak for us